Historically Jeffco:
"In 1948, a volunteer bucket brigade lost the Will o' the Wisp restaurant down Highway 285 to fire. That spurred a group of determined men of the area to found the Elk Creek Fire [Department]. The same year, two of them, Rudy and Harlan Long, sons of pioneer Charles Long and partners in Long Brothers Garage at today's Kings Valley exit, provided the land for $10. Volunteers built the white fire house with its two wide doors on the hill across the street, a landmark for everyone leaving town for an outing in the mountains.
There was also the question of getting medical help to the ill, or, in a more severe case, getting a sick person to a hospital in time for help. In 1950, May and Rudolf Long were confronted with that problem, when there was no ambulance to transport their ill mothers to a hospital, where they would receive needed care. As true pioneers, they started their own service and soon became known as Mr. and Mrs. Red Cross of the Mountains. For many years, their ambulance service would be the only one between Denver and Salida. When, in 1963, a new house for the Elk Creek Fire Station #1 was built near Richmond Hill, the Longs bought back the original fire house for $10 and out of it began to conduct their ambulance services. They retired from ambulance service in 1978.
In 1999, the Elk Creek Fire Station #1 fire house was declared eligible to be listed in the National Register for Historic Places. It was designated a Jefferson County Historic Landmark in 2004."
Sadly, that station was destroyed by an out-of-control semi-tractor trailer in 2007.
Source: https://historicjeffco.files.wordpress.com/2013/02/2007histjeffco.pdf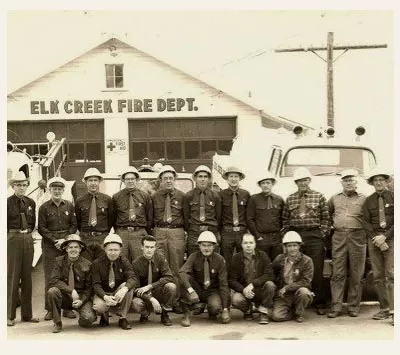 Completely volunteer and dependent on donations in the beginning, and using WW II surplus equipment, the Department provided a much needed service to the community. Elk Creek Fire Department later became Elk Creek Fire Protection District, funded by property taxes that offered critical income stability to better serve a growing district.
In last 74 years the call volume has increased to approximately 1,325 calls per year. The department now has career, full time, firefighters that work 48 hour shifts as well as a highly trained and dedicated volunteer staff. The department has state of the art firefighting and EMS equipment as well as a love to serve our mountain community.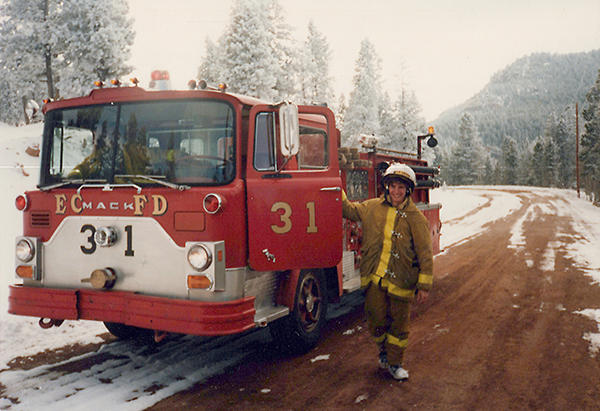 The Elk Creek Fire Protection District is a combination fire department. It is staffed with:
2 Career Chief Officers
12 Career Line Firefighter/ Paramedics/ EMT's
31 Volunteer Firefighter/ EMS Providers
5 Career Wildland Firefighters
10 Seasonal Wildland Firefighters
1 District Administrator
1 Full Time Fleet Manager
1 Part Time Logistics Chief
1 Part Time Administrative Assistant
30 miles southwest of Denver, Colorado
Parts of western Jefferson County and eastern Park County
Aspen Park, Conifer, Pine Junction and parts of Pine, Evergreen, and Bailey
Approximately 98 square miles
15,000 residents (estimate)
11993 Blackfoot Road, Conifer, CO
650 Mount Evans Boulevard, Pine, CO
10956 Timothy's Drive, Conifer, CO
9737 Rhodus Street, Conifer, CO
Nearby Stations in Other Districts
Evergreen #3 - 6940 Highway 73, Evergreen, CO
Evergreen #8 - 33377 Forest Estates Road, Evergreen, CO
Intercanyon #3 - 8445 S US Highway 285, Morrison, CO
North Fork #2 - 16675 County Road 126, Pine, CO
Platte Canyon #2 - 153 Dellwood Drive, Bailey, CO
 * District stations displayed in red.
** Other nearby stations shown in blue.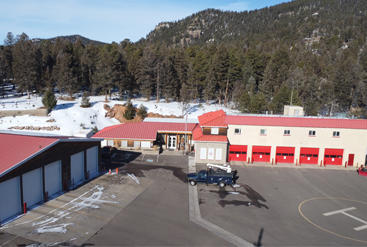 STATION 1
11993 Blackfoot Road, Conifer, CO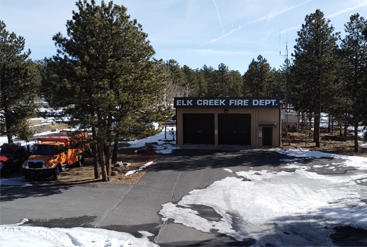 STATION 2
650 Mount Evans Boulevard, Pine, CO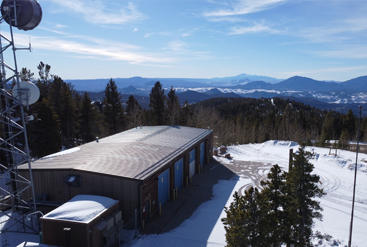 STATION 3
10956 Timothy's Drive, Conifer, CO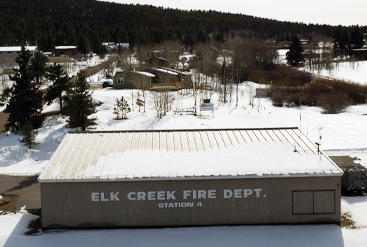 STATION 4
9737 Rhodus Street, Conifer, CO